Elephants in Laos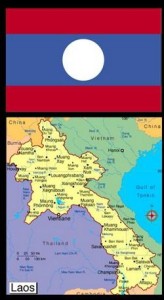 Elephant conservation in Laos is hampered by the lack of economic development. It used to be known as the Land of a Million Elephants. Sadly however, this is not the case today; although the country does retain a significant amount of forest cover, which could provide the basis for a progressive policy of elephant conservation.
Laos Elephant Population Figures
| | |
| --- | --- |
| Elephant Range: | 20,000 km² approx |
| Country Ranking: | 6th of 13 |
| Total Wild Elephants: | 781 – 1,202 |
| Country Ranking: | 6th or 7th of 13 |
| Total Captive Population: | 1,100 – 1,350 |
| Country Ranking: | 4th of 13 |
Source: R Sukumar – A Brief Review of the Status, Distribution and Biology of Wild Asian Elephants Elephas maximus- International Zoo Yearbook 2006
While this information source is considered the very best available, accurate data on wild elephant populations is difficult to obtain and scientifically verify.
Wild Elephants in Laos
Forest covers up to 47% of the total land area of Laos, a statistic that should give hope of the country harbouring a long term viable elephant population. However until recently, insufficient national funds, a lack of technical experts and the absence of the involvement of international NGO's meant that any sort of environmental policy was a pipedream. The Laos government is committed to the principles of elephant conservation and recently, a number of international groups have started getting involved so things should start to improve – but there is a lot of ground to make up.
The main threat to Laos' elephants is from hunting and the ever present problems of habitat loss. Hunting is particularly a problem in areas bordering with Thailand and Vietnam; perhaps because the culprits commit offences in Laos before disappearing over the border. Significant funds for rangers to protect wildlife are simply not available domestically.
Habitat loss is becoming a major problem as land is cleared for logging, agriculture, hydroelectric power projects and other infrastructure developments. There have been increasing reports of human deaths, probably mirrored by elephant losses.
Domesticated Elephants in Laos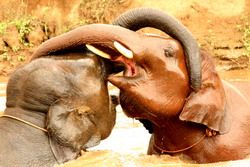 Captive elephants have been part of life in Laos for many centuries. The country still has a predominantly rural population that uses elephants for a variety of purposes including logging, land clearance and agricultural use and transportation. Trained elephants are also increasingly being used in the tourist industry.
There are reports that domesticated elephants in Laos are suffering from overwork and a lack of awareness of health issues by their owners.
Summary
The raw material for a constructive elephant conservation policy, abundant habitat and a viable local elephant population are available in Laos; but without a significant injection of funds and expertise from the international community, a policy would be almost impossible to get off the ground.